How to identify Windows Executables (e.g. for compatibility reasons)
Sure you already know, that Vista or Windows 7 does not support 16 Bit applications nor executing DOS programs, especially if Windows x64 editions are used.
Often you have collected and installed already a lot of programs but you would like to check compatibility in advance.
For Windows 7, many (known) programs will be checked by the >Windows 7 Upgrade Advisor<.
But if you want to be sure all possible executable files are checked (example: just single program files which are not installed by an installer), you have to look into the files itself.
This can be done easily with a program written by myself in Turbo Delphi Explorer: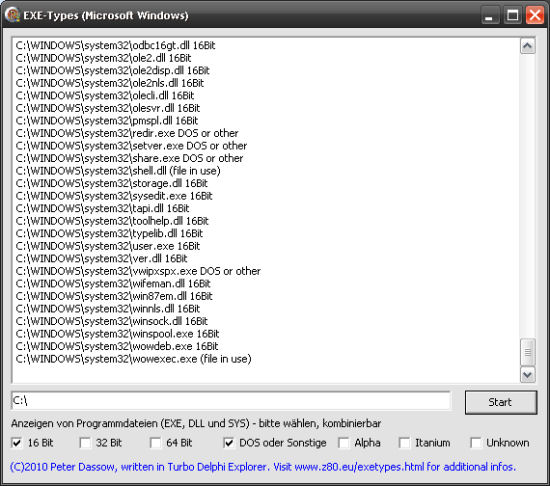 Depending on your choice (here: 16 Bit and DOS), you will get a list of files in a memo field, text can be selected and copied to the clipboard also.

The program searches for .EXE, .DLL and .SYS files only.
The default settings will result in looking for 16 Bit and DOS programs, and starts with C:\Programme (you have to change this to C:\ for example for the whole drive).

At the moment, I created a german language based executable only, it can be downloaded as a ZIP >here<.
I will publish also an english version asap.